The Fine Line Between Fact and Fiction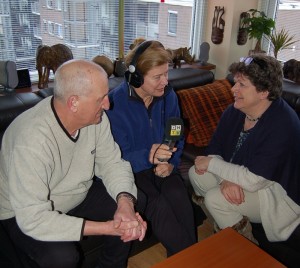 'Dutchbuzz' Lily Anne Stroobach (center), interviewing Thomas McKerley and Ingrid Schippers
This week we were interviewed by Lily Anne Stroobach,the founder of Dutchbuzz, in honor of the due publication of Bloodlines – Traces, the sequel to our 2011 debut, Bloodlines – Touch Not the Cat.
Our novels are a mix of historical fact and fictitious characters, switching back and forth between 2011 and Victorian/Edwardian times, where we have our historical characters interact with the fictitious ones.
This always raises the question where fact ends and fiction starts.
or, to put in the words of my favorite American author Michael Crichton:
This is a work of fiction, except for the parts that aren't
While it is true the characters in Bloodlines – Touch Not the Cat & Bloodlines – Traces are products of our imagination; their actions are very realistic.
And just as a fox can relate to the behavior of another fox;
authors relate to the characters they create;
to which in turn, the reader relates to what he or she recognizes as 'true'.
In that sense, anything that happens in a book, is as much fact as it is fiction.
It all depends on who is doing the storytelling.
The author holding up the mirror? Or the reader recognizing the face?
When an individual lifetime is reflected as a character in a book, the reader filters this character through personal interpretation, lined with cultural conditioning and self inflicted convictions.
In that sense we are all the Storyteller of both our own life and the lives we observe, whether these lives are real, or created in a novel.
Storytelling is as old as humanity and has always been used to reflect the adventures life brings.
From Beowulf and Shakespeare, to fairy tales, parables, anecdotes (jokes!), Tarot cards and modern day blogs;
they all mirror how we observe life and how we want our personal story line to develop;
whether we are seeking Justice, True Love, Fulfillment or any other Human Grail.
In that sense we are all characters in the book of life, at the same time owning the capacity to write our own life story.
Tom and I have experienced the correlation between fact & fiction a number of times while writing Bloodlines-Touch Not the Cat and Bloodlines – Traces;
the coincidence of writing about a person drowning in the river Spey; and finding a newspaper article on an American tourist being swept away by that same river only days later, being only one example.
It is when Reality and 'Make Belief' rub shoulders like this, that we as authors feel we are drifting into the twilight zone; the corner of life where creation takes place, no matter whether it is fact or fiction.
February '16
Ingrid Schippers