Dutch King Billy of Scotland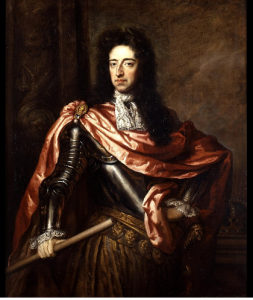 Picture left:   William of Orange, 1650-1702, King Willam the III of England; King William the II of Scotland; nicknamed King Billy in Scotland and Ireland.
———————————————————————
When authors Tom McKerley and Ingrid Schippers met for the very first time some 13 years ago; the writing of Bloodlines -Touch Not the Cat and Bloodlines-Traces was still a long way from happening.
Still, even then one of the very first discussions between Tom and Ingrid, was about a historical fact that led to surprising findings.
It was about a Dutch prince, who had been King of Scotland for a while. He was known in Scotland and Ireland as 'King Billy', officially as King William the II; in England as King William the III and in The Netherlands as stadholder of the Dutch republic.
To complicate matters further, King Billy was generally known as 'William of Orange', which is very confusing for someone from The Netherlands, as Dutch history books detail another 117-year younger 'William of Orange', born in 1533, as 'father of the fatherland'.
Royal name mix-up however is not uncommon in historical research. The name 'Edward'  in England, 'Louis' in France and 'William' in The Netherlands can cause quite lengthly conversations, as well as confusion on who lived where and when. Tom and Ingrid's first debate on historical facts and figures concerning William of Orange and the part he played in history, more or less went like this:
Tom to Ingrid:
'When your William of Orange was King of Scotland, he had his summer residence where I live these days; in Troon. Apparently it was one of his favorite summer retreats.'
Ingrid to Tom:
'You must be joking! William of Orange never had anything to do with ruling Scotland.'
Tom (stubborn, you know what Scots can be like) 'Yes he had; and so did his friend the Baron of Bentinck. Bentinck even became the first Duke of Portland, as a reward for fighting alongside William of Orange.'
Ingrid (further confused). 'Bentinck? Nooo! You're wrong again! He lived on an estate in The Hague; which is about a mile away from where I live these days, in The Netherlands!'
Tom: 'And I live on 'Bentinck' drive in Troon. Now how do you think that came about? And one of the golfcourses Troon is famous for is called 'The Portland'.'
Intrigued, Ingrid dug herself into the narrative of this Scottish-Dutch connection unknown to her and found she was in for a surprise or two. As it turned out,  'King Billy' was the leading character in a few MAJOR Scottish historical events. Perhaps a little preliminary explanation is at place here.
The William of Orange Tom was talking about (for it was indeed another William of Orange than the 'father of the fatherland' born in 1533) became related to the Scottish Crown, by marrying Mary, daughter of Scotland's James VII, who became King in 1685. James was a Catholic; his son in law William a protestant. What happened next is not pretty.
To quote wikipedia:
The son in law supported by a group of influential British political and religious leaders, invaded Britain in what became known as the "Glorious Revolution.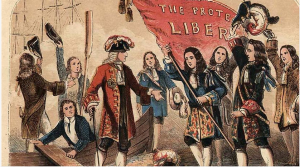 Subsequently William of Orange became William the III of England and William the II of Scotland, ousting the catholic King James the VII of Scotland.
Why William of Orange had so many of Catholic faith in his army to this day remains a mystery and is one of the many historical bits and pieces we will probably never get to hear the truth of.
The second big revelation to disclose itself following the ousting of James VII, was that the Dutch King William the II of Scotland, nicknamed ' King Billy', was directly responsible for what might well be one of the most appalling massacres in Scottish history on February 13, 1692.
Apparently the Chief of the MacDonalds had been overdue pledging his allegiance to King Billy. The weather conditions had prevented him from undertaking the arduous journey to see his new King, or so MacDonald said.
This resulted in a Robert Campbell of Glenlyon being given the order to set an example out of the MacDonald clan and warn the Scots what would happen to people who did not pay the right amount of respect to their King.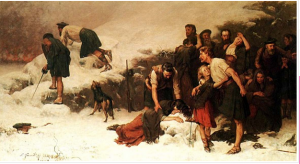 After staying the night as guests of the McDonald's, the Campbells killed 38 of their hosts. Allegedly the MacDonald Chief remarked he'd rather not be killed under his own roof, causing him to be butchered in the open air.
After these killings, many women and children who were left behind, perished in the harsh weather conditions as their houses had been burned down. All this became famously known as the Glencou massacre.
The Dutch Baron of Bentinck indeed played an important role in all this as longtime and most trusted advisor of William of Orange. In fact it was Bentinck who in 1677, procured the marriage between the future King of Scotland and Mary, daughter of James; then Duke of York.
It was also Bentinck who rallied for support for the invasion leading to the Glorious Revolution and arranged all the 17th century marketing for it.
Quoting Wikipedia again:
Bentinck superintended the arrangements for the invasion, including raising money, hiring an enormous transport fleet, organising a propaganda offensive, and preparing the possible landing sites, and also sailed to England with Prince William.
Knowing now what havoc Dutch King Billy caused; one may wonder how a Dutch author from The Hague dared to embark on a historical writing enterprise with a Scottish author from Troon, but as far as is known, no killings have taken place in real life…only in their fiction.
While the genealogy mystery novels, co-authored by McKerley & Schippers, Bloodlines-Touch Not the Cat and Bloodlines-Traces do not go as far back as the Kings William and James, mentioned in the article above; they do give a gripping account of what life was like in Victorian times on both sides of the ocean, in Scotland and America, switching back and forth between past and present; with leading character Cathy Macpherson finding out intriguing details about the life of her ancestors.
For more information on the books, their narrative and historical fact incorporated in Bloodlines Touch Not the Cat & Bloodlines- Traces , the website www.touchnotthecat.com, offers a picture gallery, personal research pictures and blogs from the authors and accounts of some interesting historical events.
To buy the books go to: www.touchnotthecat.com/the-books/where-to-buy-the-books/