5-day Free Download of Bloodlines – Touch Not the Cat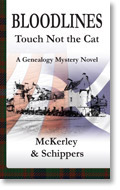 On November 11, 2018, it is exactly 7 years ago , the debut Scottish American Genealogy Mystery Novel by McKerley & Schippers, BLOODLINES – TOUCH NOT THE CAT was launched.
To celebrate, FREE KINDLE COPIES are given away during  5 day period between the dates of November 11 and November 15, 2018
Get your Free Copy through:
Bloodlines- Touch Not the Cat Free Kindle Copy.
Bloodlines- Touch Not the Cat is the Prequel to Bloodlines- Traces.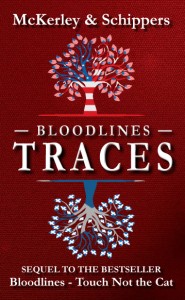 Behind the Scenes of the Bloodlines – Series
The year was 2011, the 11th of the month November.  Tom McKerley and Ingrid Schippers could hardly believe it. Two years before, they had started writing on the theme of family history and now, 11.11.11, their debut novel was seeing the light of day.
The sequel Bloodlines-Traces, was to follow 5 years later, June 2016
With Tom having recorded what he could find on his own genealogy, going as far back as 1780 and Ingrid interested in the existential question of how family history determines who you are today; the authors started a narrative, 'simply for the fun of it'.
Tom went on the Internet and chose the existing Ballindalloch castle in the Scottish Highlands as a stage, adding his own cultural inheritance to the scene.  It turned out to be fertile soil for the Bloodlines characters to be born on.
"It was as if the characters began to tell us what they wanted to have written about their lives", the authors comment. "  They seemed to come alive within our research. Before we knew it the narrative took us past important historical events in Victorian and Edwardian times on both sides of the ocean, Scotland and the USA.  Birth, Death and Marriage certificates became treasure chests of historical fiction inspiration.
While writing Bloodlines – Touch Not the Cat seemed to be directing itself; the birth of Bloodlines – Traces was another matter completely.
The authors:

"We had never written a sequel. Even more so, Bloodlines – Touch Not the cat was the very first novel each of us ever wrote. How to write a second book in a series without giving in to the urge to explain what happened in first? It posed a huge challenge. Nothing was ever planned. Basically we started writing Bloodlines – Traces, because we had a lot of material left over and our readers were asking us what happened next in the lives of our characters.

On a personal level, we had 'other' lives at different sides of the English channel. When we started working on Bloodlines – Touch Not the Cat, Tom was still working and living in The Netherlands. While writing 'Traces' we had to bridge a whole lot more.

In the end it all really comes down to 10% inspiration and 90% hard work, although it has to be said we laughed a lot as well; like the time we discovered we had a Victorian character make an announcement at dinner, when we had already killed him off two chapters before. Apparently, he wasn't ready to leave us yet.

We also disagreed at times about character or narrative development. And rather than keeping our creative process to ourselves, we had announced 'Traces' was being written; even when we hardly knew where we were going. An enthusiastic beginners mistake. But…we made it happen.
Bloodlines -Traces differs from Bloodlines – Touch Not the Cat in that it contains more historical facts and goes deeper into the subject of heritage. Even when the first book has often been described in reviews as very well written and researched; the authors certainly show their writer's development in the sequel.
As a spin off from the genealogy novels Tom McKerley tours Scottish libraries and bookshops to deliver talks on family history research. (For more information on this please contact Tom via: info@touchnotthecat.com)
Another direct result from writing the Bloodlines novels is a Family History Guide, giving information on how to do family research, using excerpts from the books describing the way the characters explored 'real life' certificates and other genealogy tools.
The Family History Guide will soon be made available to be downloaded for free.
On book 3: Yep, Tom and Ingrid are writing and certainly back in the flow, but the drumroll will have to wait for a while. Uncle T. has a few tricks up his sleeve to be considered.