Oxfam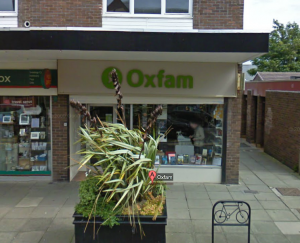 I had quite an amazing experience a couple of weeks ago. I live in Troon, a sleepy little seaside town on the west coast of Scotland. I was passing the Oxfam Charity Shop that sells second-hand books, DVD's, CD's etc …
I decided to go into the shop and ask the shop Manager, as a local author would they display our book as a Christmas gift. Mind you, I did think the good news is that probably 9 out of 10 people going into the shop are looking for a book. The bad news is they are probably looking for a cheap book!
The shop Manager was very helpful, but we concluded it would be too complex to administer them selling a new book and taking some commission. However, they did say the proverbial, "Leave it with us and we'll call you."
About one week later I had a phone call from Oxfam if I could attend a meeting. In the meeting I met a couple of Oxfam Managers and they confirmed they were unable to sell our book. I was not surprised and about to leave when they said, "We are not finished yet, Tom." They said they were willing to advertise a book reading and signing in the Troon shop, plus three Oxfam shops in Glasgow. They then started to discuss what actions need taking as if I was not in the office. "Get on to the media department and run radio ads in Glasgow and Ayrshire and advertise in the Glasgow and Ayr newspapers. Print posters and flyers as soon as possible. We must do this all before Christmas."
I was stunned. Oxfam were paying for everything and they explained that as they rely on the local community, they have a budget to give something back and will help me.
In addition, they do not want one penny from any book sales at these readings. Their benefit is getting people inside the shop.
So, our goal is to have these appointments completed by 17th December.