New Logo, New Publisher, New Inners, New Outers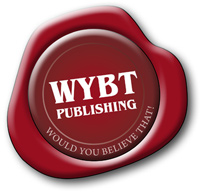 Almost a year after being published by Jo Parfitt's Summertime Publishing on 11.11.11; Bloodlines Touch Not the Cat is going solo.
Jo, thank you for your skilled writers-coach-woman's-ship (I'm sure you'd find edits in this); You have taught us the tricks of the self-publishing trade and the baby Summer time birds are now leaving the nest. We will undoubtedly make a few more loopings and nose-dives but are enjoying the roller coaster-ride.
The new cover of Bloodlines Touch Not the Cat holds the new logo WYBT publishing, modeled by our book cover designer Graham Booth; who once again knew how to merge our different wishes into one idea. The logo shows on the backcover and the spine.
Also we've included 3 reviews on the backcover. One from Scottish Author Roddy Martine; 
Shari Low of the Daily Record and the Scottish Field review.
WYBT stands for something of course and this is what it is:
When we were writing book number one, Bloodlines Touch Not the Cat; Tom and I used a system where we would send each other our pieces of text by mail for review and editing.
The one author would read the text in the silence of his or her own environment and honestly tell the writing author what he or she thought of it and suggest changes by making edits.
We feel it's a great system for basically that way there's always an editor reviewing immediately, and two brains can in that way be more creative.
One day, as I was reading quite a long piece of text Tom had written, I noticed he had the habit of using a certain expression many times throughout the story. I had the search engine count the number of times; – cant remember how many it were; but the outcome did made me laugh (and proved my point

Ever since, Tom and I we use it as a gentle teasing tool on each other, when we don't agree on a certain change and need to discuss what to do next.
The expression thus became a mediator in the sometimes also challenging assignment of co-authorship, agreeing on the same storyline, putting both signatures under one piece of text.
This affirmation, this spell, these magic words (while waving the wand three times) are: "Would – you – believe – that"
Would you believe that?
So that's how WYBT Publishing came into being. This particular discussion only took us 3 minutes, we both thought of it at the same time! ☺
The WYBT edition, with small edits (former bloopers, "woman" instead of "women" (last chapter) and so on); is on its way of being available in all bookstores and through on line booksellers.
On Kindle, Bloodlines Touch Not the Cat is now also available in a WYBT edition.
Happy Readings
Ingrid Schippers