Genealogy talks for the Klu Klux Klan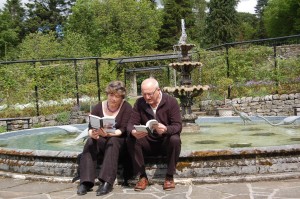 Family History talks by McKerley & Schippers in The Netherlands between 26 November and December 1.
A glimpse into the kitchen of family history writing.
(picture: Ingrid and Tom reading from Bloodlines – Touch Not the Cat seated by the fountain of the walled garden of Ballindalloch Castle.)
Promoting and writing a book while divided over two different countries, Scotland (or should we say UK?) and The Netherlands in our case, potentially has its hilarious moments.
Next to visits to each other's natural habitats, as well as Skype calls and sending chapters and ideas to and fro, we also rely on whatsup and messenger text exchanges for quick points of discussion or preparation.
Sometimes these exchanges are rather humorous, which is part of what keeps our joint writing endeavor alive. We find we need a good a laugh every now and again in between all the planning, writing, editing and promoting, otherwise it becomes far too serious.
O yes, we quarrel as well at times, like parents over how to raise a child; the child being the narrative.
This morning we discussed the possibility of doing talks on family history writing while Tom is in The Netherlands, 26 November to December 1st.
Rather than book signing only, talks give an opportunity to illustrate the perks of genealogy writing. Combining fact with imagination while researching family history, is most of the time very rewarding and hardly ever contains a dull moment. Truth can indeed be stranger that fiction and supply interesting conclusions for present day life as well.
We try to convey this in our genealogy mystery novels, Bloodlines-Touch Not the Cat and Bloodlines-Traces; for instance by showing how our character police officer Cathy Macpherson is irreversibly drawn to the emancipated life story of Victorian character Katherine Macpherson.
Or how her husband David Stewart feels the irresistible need to find out what happened to his great great great grand father Alexander, during WWI in Gallipoli, and wants to know what made him leave Scotland in 1896.
In and around Troon, Scotland, Tom has been invited at Rotary clubs and schools, to do talks about this facet of the raw diamond called Genealogy.
Bloodlines-Touch Not the Cat and Bloodlines-Traces, being less known in The Netherlands, some extra initiative was to be undertaken. With only 14 more days to go to organize a genealogy talk somewhere, we had a quick text exchange today.
The humorous part steps in when a response to a remark is delayed.
In spoken exchanges this is corrected so quickly, it is hardly noticed. Mixed up text messages however, can lead to hilarious situations; such as this one:
Thomas McKerley: will send you my scribbles on the talk

Ingrid Schippers: how were your church visits yesterday?

Thomas McKerley: excellent, great response

Ingrid Schippers

: Very good.  So that should be our angle here then as well? Approach the churches?

Thomas McKerley: and other institutions

Ingrid Schippers

: Like schools?

Thomas McKerley: yes, libraries, round tables, uni's, anything where people meet

Thomas McKerley: Klu Klux Klan

Ingrid Schippers

: Okay, will make a post about that.
To conclude: We would very much like to hear from you.
Do you like us to come to your genealogy, reading or history circle; school activity, Christmas fair, language school, rotary, lions or other club, for a talk on writing and family history, between the dates of

26 November and December 1st.?