Genealogy Mystery Bloodlines – Traces Dec 8-11 Kindle Promotion starts at 80 % discount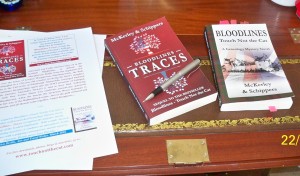 Click Here for the direct link to the Kindle Countdown Deal of Bloodlines Traces and buy your digital copy with as much as 80% discount
Get your 2016 Genealogy Christmaspresent for family, friends or for yourself:)
with 20, 40, 60 or even 80 % discount.
Bloodlines-Traces, sequel to the Scottish American Genealogy Mystery Novel Bloodlines-Touch Not the Cat special Amazon.co.uk promotion.
More on the Narrative
Normal Amazon Kindle.co.uk price: 4,99
Regular Sales Information on the Bloodlines – Touch Not the Cat & Traces paperbacks & Kindle

During the 4-Day December promotion starting Thursday 8 till Sunday 11 December 2016

Day 1: 8th December- 80% discount, one day only   99 P

Day 2: 9th. December- 60% discount, one day only  1,99
Day3: 10th December- 40% discount, one day only  2,99
Day 4:11th December:- 20% discount, one day only 3,99
More Reviews
Vividly told, the story fairly rattles on through very convincingly fleshed-out characters as details fromVictorian Scotland begin to merge with Cathy's 21st century quest.
Gerry Cassidy, The Word on the Street Magazine, October 2016
Following Cathy's trail, New Yorker Diane Cox confronts present-day patriarch Angus Macpherson, when she boards the luxurious Royal Scotsman to heir-hunt her way to the Ballindalloch Estate.

This is a page-turner of a novel which sequels the hit debut of Tom McKerley and Ingrid Schippers and takes in many places familiar and not so familiar to Strathy readers, including Grantown and Boat of Garten, as the plot twists through time.
Gavin Musgrove, Strathspey and Badenoch Herald, September 2016