Fifty Shades of Bloodlines, the genealogy of success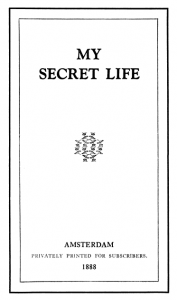 Where does success come from? Who fathered it? Who gave it the unconditional maternal love to make it grow? Which is the gene responsible for that one spark – or should we say that one big bang,  that ignites sales as befell books like Fifty Shades of Grey; The Da Vinci Code or the Harry Potter series?
As co-parents of Bloodlines-Touch Not the Cat, we became curious. Even though it is the last thing we expected to do as authors; fact is that in the current publishing industry, authors are required to do a lot of their own marketing. Of course those who have already published a bestseller might be able to afford a publicist or agent. For us however, McKerley & Schippers, relative new-bees, it's all about starting from scratch; trial and error with the occasional lucky break.
Thinking about what we should do to turn Bloodlines-Touch Not the Cat into the success we believe it has the potential to be, we researched the history or, in the tradition of our book -  the genealogy of success.
Fifty Shades of Grey gave us a curious lead.
The first obvious answer to the enormous success of 'The Grey Trilogy' is that it displays explicit sex. This, together with violence, seems to be an ingredient that sells; and not just in this day and age.
The 19th century had its own self-published [i] sex bestseller, carrying the title My Secret Life. Like 'Fifty Shades', it is also a trilogy bundled in one book and tells about the life of a Victorian gentleman by the name of Walter, who explores intimacy.
Walter goes further than one would expect within the ruling etiquette of the day, crossing boundaries that were unheard of in Victorian times. Wikipedia [ii] says the following about it:
".. its frank discussion of sexual matters and other hidden aspects of Victorian life make it a rare and valuable social document. It has been described as one of the strangest and most obsessive books ever written."
The same article describes how My Secret Life was re-printed several times throughout the 20th century, causing uproar that even landed a New York publisher in prison during 1932.
Times have changed fortunately. It's even quite fashionable now to openly read books that pose a challenge to the comfort zone and for those who would be embarrassed to read porn in public; the coverless E-books provide a wonderful decoy to read about sex – as I heard a woman say, "…while I'm in the playground with my children."
So sex seems to be a winner, but that still doesn't explain the success of other bestsellers that do not cross the boundaries of the sexual consensus of an era.  A closer look however, shows that successful novels, from Lady Chatterley's Lover to The Shack, almost all have one thing in common.
In their own way J.K. Rowling, Dan Brown; Stephen King, Michael Crichton, Steve Berry, Harold Robbins in his days and many other bestseller writers all surpass what would openly be shared within 'normal' society.  They are story-telling things we wouldn't dream of mentioning at a cocktail party; yet love to read about when it's written by somebody else.
Is this true? Just think about it.
Would you share at a dinner party, how some people believe the descendent of Jesus is French and works for the Paris Police Department?
Would you share thoughts about a secret world filled with goblins, magic and the one whose name we do not mention?
Would you admit to being curious about how "Grey" pulls it off?
You may however, want to read about all these subjects.
Even though there are huge differences between the books, the core gene responsible for success seems to be the author's ability to have the courage to advocate 'shady' or less generally condoned subjects.
So how does this theory reflect on Bloodlines-Touch Not the Cat?
Well, the storyline does warn the reader they may get more than what one might have wished for while tracing family lineage. And Cathy Stewart certainly steps out of a comfort zone many would stay in.
Time will show if our deductions are right. Meanwhile, as we are writing the sequel: Bloodlines-Traces, we are keeping the DNA string of 'success' in mind.
[i] (In the wikipedia article  mentioned below, it is described as  "printing in private edition")