Family History Writing, Events & Bookreadings
Dear Bloodlines Readers,
It has been a while since you last heard from McKerley & Schippers and what goes on in the sometimes surprising world of family history research and genealogy mystery writing.
Tom McKerley is at present entangled in writing about his very own family history as a result of finding a newspaper article on a Scottish ancestor who turned out be a locally famous!
Events- Booksignings – Family History Writing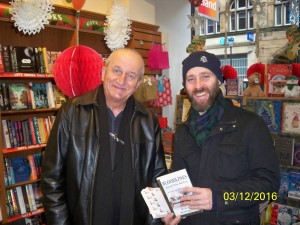 Tom has also been doing quite a few events in Scotland for our Bloodlines -Touch Not the Cat and Bloodlines-Traces genealogy Mystery Novels,ranging from book signings at Waterstone's, to book readings at reading/writing circles and libraries.
To contact us for promotional activities, – including your local (Netherlands or Scotland) reading circle- send us a mail at info@touchnotthecat.com or use the contact form of this website.
The McKerley & Schippers Family History Document
Together we have been working on a 'real- life' family history document to use for 'family history gatherings', highlighting the main things-to-remember when researching your own (Scottish-American) genealogy. In Scotland Tom is available to speak about his own family history research; the do's and don't's and how to get to the core of your question.
For more information about family history writing document or to contact Tom, send us a mail through the contact form
Behind the scenes stories and personal pictures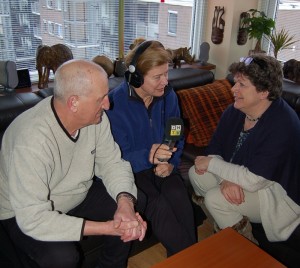 While you are here, take a look around in the blog section and 'the books' page, revealing behind the scenes stories on how Bloodlines Touch Not the Cat & Bloodlines- Traces were unexpectedly and mysteriously written by two first time mystery authors.
Our webdesigner Remco Kalf created a lovely slideshow on the www.touchnotthecat.com homepage, also featuring our self-designed 'GlenFroach home-made whiskey label', exclusively created for Bloodlines-Traces!
We love receiving reviews!!!!! While in the past we have organized review contests, we will now donate a complimentary copy of either Bloodlines Touch Not the Cat of Bloodlines Traces to the author of the most in-depth (which also means you may be critical) review on or both genealogy mystery novels.
Send your reviews through the contact form or info@touchnotthecat.com
To conclude: Thank you all for your heartwarming responses to Bloodlines Touch Not the Cat and Bloodlines Traces. Especially since these are our first fiction writing ventures we did not know what to expect, but the ride so far has been an absolute joY and meaningful learning experience.
On behalf of us both, wishing you a great day,
Ingrid