Bloodlines Traces to be published in May 2016
It's the challenges and learning curves that make the work worthwhile!
Thank you for being patient with us!
The aim is to publish Bloodlines – Traces May 16, 2016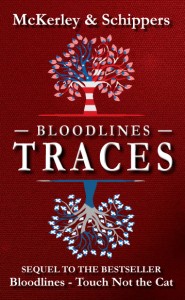 A page-turner of a novel and sequel to the praised 2011 debut of McKerley & Schippers,
Bloodlines Traces reveals the challenges of Women's Suffrage, poverty in Edwardian Scotland, and the disastrous strategy of a young Winston Churchill in WW I.
American cop Cathy Stewart stays on in the Scottish Highlands, to defend the Macpherson family from the inquisitive D.I. Duckett over the bones of Gordon Macpherson. Simultaneously, she finds herself entangled in a 110-year-old scandal, involving the laird's daughter Katherine at the University of Edinburgh. Meanwhile, estranged husband David continues his genealogy quest into the WWI atrocities of Gallipoli, where his ancestor Alexander Stewart is said to have died. Following Cathy's trail, New Yorker Diane Cox confronts present-day patriarch Angus Macpherson, when she boards the luxurious Royal Scotsman to heir-hunt her way to the Ballindalloch estate. Just as the path of David and Cathy reunite, and all threats come together, Angus disappears…
Have a look around on our website: www.touchnotthecat.com

Free downloads of the first 4 chapters and where to buy the book information (Traces to follow soon).
As a sequel to Bloodlines -Touch Not the Cat, here is another well-researched Genealogy Mystery novel, Bloodlines – Traces, set against the majestic, moody backdrop of the Scottish Highlands.
With a multi -layered, page-turning narrative, it combines an atmospheric Gothic romance with a gripping contemporary murder mystery. Charlotte Bronte meets Sara Paretsky !
Vivien Devlin, Arts and Travel Writer. March 2016
A big well done to Tom and Ingrid on another high quality and interesting read. Anyone who enjoyed the first visit to Ballindalloch will feel like they are catching up with old friends. Bloodlines- Traces won't disappoint
David Herron, Troon, Scotland , April 2016
The first book set the scene brilliantly, and the sequel brought in mystery and intrique. I couldn't stop reading it as I wanted to know what had happened to the Laird, and the complications that arose. A well executed book of historical facts, mystery and problemsolving. I loved the book!
Dawn Lemmer, New Zealand, Februari 2016