Bloodlines Blurbs: The Funeral of Elisabeth Macpherson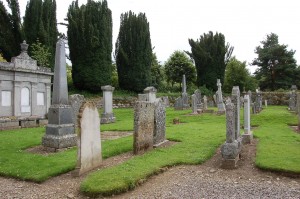 Inveravon burial grounds,
Bannfshire, Scotland.
picture: 2010, personal archives.
For reasons he could not entirely understand himself for they had quarreled almost all of their lives, Gordon wished his younger brother William could be here now.
Chapter 4, Bloodlines- Touch Not the Cat.
Life stories can be be captured in one name or epitaph on a tombstone or in one sentence of a novel.
It was the above one-liner, presented as a thought by Gordon Macpherson at the funeral of his wife Elisabeth in Bloodlines – Touch Not the Cat, that brought to life the character of William Macpherson in the newly released sequel, Bloodlines-Traces.
William, born in 1841 as second son of Lachlan Macpherson, laird of Ballindalloch castle in the Scottish Highlands, ended up playing a crucial part in the storyline.
Had it not been for him, the Bloodlines series would have had a completely different narrative.
It is intriguing to see how in some ways, books seem to write themselves.
What started off as a random remark in the thoughts of Gordon Macpherson in book I,
ended up as a complete lifetime, including real historical events and figures in book II.
'Inspiration' in that context, is an intriguing phenomenon. Where does it come from? What prompts an author to devise a certain narrative? In what sense is fiction 'real'?
What we've found is that the personal development of a character  in a book,
can surprise even the author(s).
Win a complimentary copy of Bloodlines -Touch Not the Cat or Bloodlines -Traces.