And The Winner Is…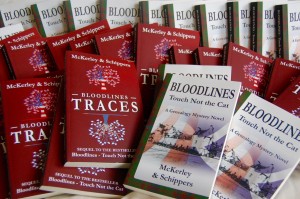 Will you be our August 2016 winner of  your very own copy of Bloodlines – Touch Not the Cat or Bloodlines – Traces, to be send to an address of your choice in Europe, the U.S.A or Australia?
Send in your Review of Share a Blog and tell us about it by sending a mail to info@touchnotthecat.com.
Closing date: September 1st.
On Bloodlines – Touch Not the Cat, our July winner Jorine Janssen wrote:
"Normally I'm not one for different timeframes in fiction, but in Bloodlines – Touch Not the Cat, it provided more depth and suspense.
To me the Bloodlines series are tales of courage, following up on chances paved by our ancestors through time, the quest to find what really matters.
The Bloodline characters work around the inevitable obstacles life brings while thinking out of the box"

The pace of the book is one of a steady flow, like the river Spey, with surprising turns. Refreshing and enchanting!!