A perfect mix of warmth, wit and a little eccentricity.
Lovely review from a Macpherson no less…
The August Winner of the 'Share a Post or Send in a Review' contest is a Macpherson!
Thank you Karen for your lovely words. Your complimentary copy of Bloodlines-Traces is on its way.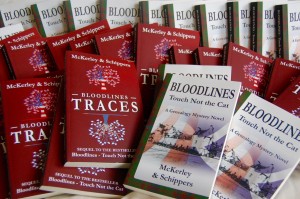 Review of Karen Macpherson on Bloodlines-Touch Not the Cat.
What a fabulous mystery book! Loved the time-travelling alternate chapters, it kept me page turning to find out what happened in each century and found it fascinating how events were inter-related. Characters are easy to identify with and I warmed to the modern independent yet vulnerable Cathy as the story unfolded, each chapter encouraging me to support her that bit more. Would love to find out more about the historical Katherine as she lives in a time of emerging changes for women and education. The Scottish Macphersons were a joy to read, a perfect mix of warmth and compassion, dry humour and wit with a little eccentricity. The descriptive narrative easily sets the scene in your mind and I found myself longing to visit the places so beautifully described in the book. The plot is pacy and full of just enough turns to keep you interested yet gently unfolds to give you time to get to know Cathy and to empathise with her situation. Loved the ending, it tied up all loose ends with a slightly humorous and "you go girl" attitude!

Looking forward to reading the sequel,

Karen Macpherson
Will you be the September 2016 Winner of the Share a Blog or Send in a Review contest?
Win a copy of Bloodlines-Traces or Bloodlines-Touch Not the Cat, to be send to an address of your choice, in Europe, U.S.A or Australia/New Zealand.
Simple send in a review or share one of our website posts and tell us about it in a mail to info@touchnotthecat.com
Every month a lucky winner's name is drawn from among the e-mails.