A Curious Case of Inspiration.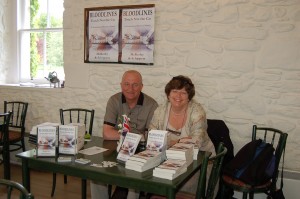 Next to learning how to fly or having the wish to run a marathon, many people list 'writing a book" in their bucket list top 10 of things they still want to do with their lifetime.
In that sense Tom and Ingrid were no different.
While Tom published his soccer news bulletin in the sixties at his Airdrie high school;
and Ingrid wrote 'girl talk', in her teenage years, a column in the local weekly of her home town;
they both, independently, in two totally different worlds and unknown to each other, held the secret dream of becoming a writer.
However.., not in their most beautiful dreams (or worst nightmares for that matter) could they have imagined what happened next, or should we say: 36 years later.
What are the odds of a native Scot and a Dutch woman, growing up in totally different cultural environments, leading separate lives for the first five decades of their lives;
one having a career in the computer industry;
the other ending up in personal development;
to initiate a Scottish American Genealogy Mystery series?
And yet it happened.
If someone would have predicted this only 7 years ago both Ingrid and Tom would have kindly but decisively have waved it away.
Ingrid had 'a thing' with Scotland, that much was true. And Tom happened to work and live in The Netherlands for 10 years, but the two authors didn't even meet until Tom was due to move back to Troon in 2008.
Only shortly before he left, did they have that curious conversation, triggered by a nighttime dream of Ingrid about having to solve a mystery that happened in her family 7 generations ago.
'You researched your family history" Ingrid said to Tom.'What do you make of it?
'It would make a great theme for a short story' Tom suggested
'I have my computer literally littered with short-story ideas' Ingrid responded, ' Just don't have the time or space to store yet another'.
Yet the discussion wouldn't leave Tom's mind and a few days later Ingrid to her surprise, received a synopsis that caught her attention and simply wouldn't leave her alone anymore. Tom had googled a castle, looking for one that was still family-owned and lived in. Ballindalloch crossed his virtual path. Connected to this estate was the name Macpherson. The setting to Bloodlines was born.
'For the fun of it' Tom and Ingrid started expanding on the idea, e-mailing, skyping and visiting away, dotting down the occasional idea or discussion, gradually adding chapters.
Cathy, the policewoman from Raleigh, North Carolina born in 1974 and Alexander, the son of the Ballindalloch gamekeeper born in 1874 , were there from the start. But then Victorian character Katherine, the willful independent daughter of Laird Gordon Macpherson appears in Ingrid's mind's eye and starts telling about her childhood.
Contemporary travel writer David Stewart, steps into the story, arguing with his wife Cathy, persuading her to join him on a genealogy trip to Scotland after she has almost been killed in the line of duty.
Then one evening, after a day of writing, Ingrid says: 'There must be some sort of Scottish American Society that could give us immigration numbers on Scots who moved to the States. Up pops the figure of over 30 million Americans with Scottish ancestry.
The rest as we say, is history.
Tom and Ingrid decide there should be a market for their book, find themselves a editor;
remove a huge story-line-flaw just before the book goes to the printer, preventing Gordon Macpherson from speaking at a family dinner two days after his death, and launch their firstborn at the American Book Center in The Hague on the prophetic date of 11.11.11
They tend to be apologetic and say it was sort of an accident.
'Writing and publishing Bloodlines – Touch Not the Cat', McKerley & Schippers say 'was like two toddlers on a playground, merrily running from one attraction to the other, without really having a clue how to use or construct such playing devices, just going by intuition.'
But then when one of the world's best-selling authors, Michael Crichton, was asked during an interview 'how he did it', his answer was:
I don't really understand how it happens and if I did I'd make it happen more often.
Clinging to that as their credo, Tom and Ingrid have recently finished the manuscript of Bloodlines – Traces, the sequel to Bloodlines- Touch Not the Cat, on which more will be revealed in the next blog…..