3 lovely lovely new reviews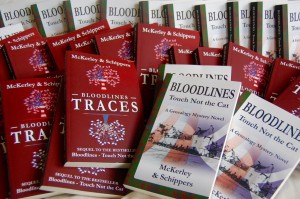 Thank you Gerry, Gavin and Linda for your lovely lovely reviews.

To view even more, go to 'the books' section of our website; and while you're there, take a look at the slide show and behind the scenes blogs
The idea behind 'Bloodlines – Touch Not The Cat' is an intriguing one. Two threads of a story taking place a century or so apart on either side of the Atlantic are brought together in alternate chapters culminating in an absorbing mystery that has been shrouded in secrecy for generations.

What begins with American David Stewart tracing his Scots heritage becomes increasingly murkier as the action shifts from North Carolina to the Scottish Highlands and a modern-day detective hunt by his homicide cop wife Cathy.

Vividly told, the story fairly rattles on through very convincingly fleshed-out characters as details from Victorian Scotland begin to merge with Cathy's 21st century quest.

Written by first-time authors Tom McKerley and Ingrid Schippers, Touch Not the Cat is a triumph not only for pulling together two intriguing tales across the centuries but also in overcoming the strategic difficulties involved in the pair liaising from their homes in Troon, Scotland, and the Netherlands respectively.

Full of great characters and packed with fascinating detail – including the fact that Ballindalloch Castle which features in this work of fiction actually exists – this is a rewarding read for anyone interested in genealogy and historic novels as well as those who enjoy a good yarn well told.
Gerry Cassidy, The Word on the Street Magazine, October 2016
Bloodlines – Traces
US cop Cathy Stewart stays on in the Highlands to defend the Macpherson family from the inquisitive DI Duckett over the bones of Gordon Macpherson.

But she finds herself entangled in a 120-year-old scandal involving the laird's daughter, Katherine, at the University of Edinburgh. Meanwhile, her estranged husband David continues the genealogy quest into the WWI atrocities of Gallipoli, where his ancestor Alexander Stewart is said to have died.

Following Cathy's trail, New Yorker Diane Cox confronts present-day patriarch Angus Macpherson, when she boards the luxurious Royal Scotsman to heir-hunt her way to the Ballindalloch Estate.

But just as the paths of David and Cathy reunite, and all threads come together, Angus disappears.

This is a page-turner of a novel which sequels the hit debut of Tom McKerley and Ingrid Schippers and takes in many places familiar and not so familiar to Strathy readers, including Grantown and Boat of Garten, as the plot twists through time.

It reveals the challenges of women's suffrage, poverty in Edwardian Scotland and the disastrous strategy of a young Winston Churchill in the Great War. Like its predecessor, Bloodlines – Touch Not the Cat, it's a well-researched genealogy mystery novel. Its multi-layered narrative combines an atmospheric Gothic romance with a gripping contemporary murder mystery.

McKerley had become somewhat of a genealogy expert having spent time tracing his family tree back to the 1790s so was the perfect foil for the pair's debut novel with the plot coming in a dream to Schippers.

McKerley constructed an initial synopsis for the first Bloodlines, "just for fun really", and on a hunch went looking on the web for a location to set the scene. He found Ballindalloch Estate, family home of the Macpherson-Grants since 1546.

The pair started creating a story that would not let them go. Quickly the short-story turned into their first novel. Their second book picks up where novel one left off.

Bloodlines Traces is now on sale priced £8.99 by Would You Believe That Publishing. There's a free download of the first four chapters on www.touchnotthecat.com
Gavin Musgrove, Strathspey and Badenoch Herald, September 2016
Bloodlines – Touch Not the Cat
I thoroughly enjoyed the read and my comments are shown below.

The book was 'easy on the eye' due to lots of white space, font style and size and spacing between the sentences. Each chapter clearly reminds us of date, time and location. Excellent for keeping the mind focused if you have to take a break from the book for any reason.

I loved the feel of the book and the chosen size meant it felt comfortable in the hand. I liked that acknowledgements are explained and not just a list of names. It shows how people can research for their ancestors and also gives a wealth of knowledge on history, life style differences. It also showed how position in life impacted our way of thinking , restrictions and control.

Thank you again for such a lovely book.

Linda Luman, Troon Writer's Club