10 Q & A's on the Scottish American Mystery Novel Bloodlines – Touch Not the Cat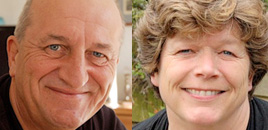 Authors Ingrid Schippers and Thomas McKerley answer 10 questions about their book Bloodlines – Touch Not the Cat:
Q1: The genealogy mystery novel, 'Bloodlines-Touch Not the Cat,' features several existing places and clan names in the Scottish Highlands and the USA.
Does this mean part of the story line is based on true fact?
The storyline is entirely fictional. We did use several real locations and events as a setting, but as it says in front of the book, "any resemblance to actual persons is purely coincidental." It is a novel.
Q2: But the clan name used for the main characters is Macpherson. This is also the name of the family that features on the website of Ballindalloch Castle, one of the main locations in the book.
Actually, the family that live at Ballindalloch Castle nowadays are Mr. and Mrs. Oliver Russell. Mrs. Russell is a descendant of the MacPherson-Grant family that has lived on the estate for over 450 years.
Q3: Then how did you get the idea to combine this storyline with the existing locations?
"That's an interesting story in itself," the authors agree.
One morning Ingrid woke up from a dream in which she had been assigned to right a wrong that had taken place in her family 7 generations ago. Intrigued she shared it with Tom, after a business meeting, knowing he had been researching his genealogy for years, going as far back as 1820.
"We talked about how something that happened generations ago; can still be of influence in a family in present day time." During that discussion we concluded this concept would make a great theme for a short story.
"Tom picked up that glove," Ingrid adds. "He wrote the synopsis."
"In an effort to give a stage to Ingrid's dream, I used my own cultural inheritance," Tom explains. "I randomly chose a location from the web, Ballindalloch Castle, also known as "The Pearl of the North." Their website also carries the "Touch Not the Cat", crest of the MacPherson clan.
"I was very inspired by how Tom had been able to give substance to my dream," Ingrid recalls. "Listening to Tom's creation of American police detective Cathy Macpherson who finds herself on a plane taking her back to her roots; it was very easy for me to envision what the life of her ancestors must have looked like. The characters and scenery just flowed into my imagination. That's how some of the Victorian chapters were born."
"I in turn was inspired by Ingrid's flashback writing," Tom McKerley adds. "That's how Alexander Stewart's 1895 journey to America came into existence. Doing the research for that was a phenomenal experience."
Q4: Does this mean each author wrote a specific part of the book?
The book was definitely written by both of us. We would send ideas and pieces of text to each other by e-mail, with Tom living in Scotland and Ingrid in The Netherlands. In follow-up Skype calls and visits we would then piece the puzzle together and do edits and rewrites together. In general you can say Tom did most of the research on locations and events while Ingrid did the character building.
The storyline development however is definitely a journey made together.
Q5: You started by writing a short story. When did it become a novel?
Funny thing is we never intended to write a book. It 'simply happened'.
Every time Tom was in Holland for business, we would spend some of our time writing on our 'short story', just for leisure really.
But then peculiar things started to happen. Tom would bring articles he had found in Scottish newspapers. Events we had written about turned out to have happened in real life as well. That gave us goose bumps.
It is sometimes said the storyteller does not seek the story but the story seeks the storyteller. That's exactly what it felt like for us. It was as if the story was urging us to tell what it had to say.
Q6: How did you find your publisher?
We found that submitting a book to a publisher is a skill in itself. It's thanks to the general knowledge that even J.K. Rowling had to submit her work to several publishers before she got accepted, that we kept our courage.
Ingrid knew Jo Parfitt from the large international networking community in The Hague. Jo has written many books herself and is also producer of the "Writers Abroad" radio show and The Expatbookshop.com and runs "Summertime Publishing". It was like a natural step to turn to her for guidance.
Q7: What does the title of Bloodline-Touch Not the Cat stand for?
'Bloodlines' refers to the genealogy and 'Touch Not the Cat' is the first part of the text in the Macpherson family crest: Touch Not the Cat But a Glove".
What that means is explained in the book. ☺
Q8: Where can the book be bought?
Bloodlines-Touch Not the Cat is for sale on Amazon as a paperback and Kindle version.
Next to that it is also for sale at the American Book Center in the city center of The Hague. More retail outlets are being established in the USA and Scotland.
All selling locations are mentioned on the website; www.touchnotthecat.com
Q9: Where to go for more information on Bloodlines-Touch Not the Cat?
Remco Kalf has designed a wonderful website that features pictures of when we visited the locations, like Ballindalloch and Grantown-on-Spey. The website also hosts our news blog and a newsletter to sign-on to.
We have a Facebook page: Bloodlines-Touch Not the Cat, where readers can post their reviews and comments and ask questions.
On twitter we're known as McKerSchip. There we give the latest info on book-reading venues and other happenings. Via the touchnotthecat website readers can sign on
Q10: The burning last question: will there be a sequel?
As Bloodlines-Touch Not the Cat was being written, we had an overflow of storyline possibilities and with the characters as defined as they are, its quite easy to have them lead a life of their own.
At some point we had to make the decision whether to make the manuscript as extensive as "Gone With the Wind" or leave it a regular mystery novel size. We decided to go for the latter… BUT… have certainly kept our other idea's on file under the name: Bloodlines – Traces.