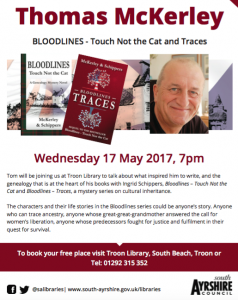 Get your agenda's out….here's an announcement for yet another free event in the library of Troon Scotland, hometown to Tom McKerley
Tom will be joining us at Troon Library to talk about what inspired him to write, and the genealogy that is at the heart of his books with Ingrid Schippers, Bloodlines – Touch Not the Cat and Bloodlines – Traces, a mystery series on cultural inheritance.
The characters and their life stories in the Bloodlines series could be anyone's story. Anyone who can trace ancestry, anyone whose great-great-grandmother answered the call for women's liberation, anyone whose predecessors fought for justice and fulfilment in their quest for survival.
To book your free place visit Troon library, south Beach, Troon or Tel: 01292 315 352